This week I have been having fun playing with the KaDoodle Bug Designs file, "Christmas Feet."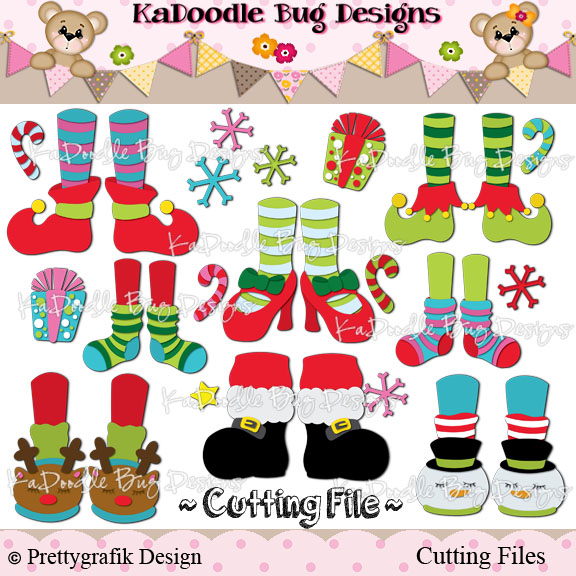 Here are the fun projects I made with this file.
First I used the elf feet to help decorate a Christmas boot. The boot is 5 1/2 inches tall. I made two sets of feet at 5 1/2 inches and attached them back to back to a pipe cleaner. They were then poked into a piece of floral foam (along with various Christmas greenery) that was inserted into the boot.
My next project was the cute cookie holder. I made the holder by welding a 2 inch by 3 1/2 inch rectangle to the backs of the two feet. Gently shape the shoe in a curve by using your hands. Glue the toes together and add a bell accent. Use a small hole punch to make small holes 1/4 inch down and 1/4 inch in from the top of each side of the shoe. Slip the cookies inside and use a ribbon to tie the shoe closed.
My next project was a simple A2 sized card. I made the snowman feet 4 inches tall. I embossed one of the mats using my Cuttlebug and a Darice folder called,
"Snowflake Background." The sentiment uses a stamp from Stampin Up and measures 1 1/2 by 2 1/2 inches.
My last project is a quick tag using the reindeer feet on a 3 5/8 by 5 inch tag. The embossed layer was created using a Darice folder called, "Holly Vines." The feet are 3 inches tall. The smaller tag is 2 1/4 by 2 3/4 inches. The tags were made with my cricut and a system font. They were tied together with a pretty Christmas ribbon.
I hope you enjoyed my projects using the KBD's Christmas Feet! Sorry my pictures aren't the best. It was a very dark, rainy day and I couldn't get any decent light without getting reflections. Have a very Merry Christmas! ~ DT Shirley